Thomas Brinkworth and the RSPCA
Following a complaint from a concerned citizen in 2007, twelve of Thomas and Patricia Brinkworth's agricultural properties were inspected by the RSPCA. This led to a total of 113 charges of animal cruelty being laid against the two owners, as well as three of their employees, for allegedly allowing cattle to starve during the 2007 drought. 800 cattle were found dead or dying, with those still alive killed immediately, and several thousands of others found in distress.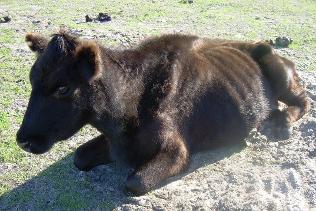 One of the cows allegedly negelected on the Brinkworth property. Source: AdelaideNow
It is believed to be one of the worst cases of animal neglect in Australia's history, with a spokesperson stating, "for some of the animals, the only movement they could make was to blink their eyes, that was the only way we knew they were alive".
Enough evidence had been substantiated by the RSPCA to take the matter to court, in what would have been the largest animal cruelty case in South Australia's history. However, this evidence was ultimatly found inadmissable in court. A senior member of RSPCA staff claimed to have forged a signature on documentation relating to the case, which meant evidence complied against the accused could not be tendered, and therefore they were found not guilty on all charges.
If the case had proceeded and the accused found guilty, they could have been facing up to $1 million in fines and potential jail time for the alleged neglect.
After the verdict, the Brinkworth's sought to be awarded costs higher than usual against the RSPCA, with Thomas Brinkworth intending to go far beyond the court schedule of fees. Ultimately, the Brinkworth's settled the amount with the RSPCA out of court for an unstipulated amount.
This begs the question – if the Brinkworth's charges were ultimately dismissed due to a technicality – did the Brinkworth's make a profit from the RSPCA following horrific animal cruelty caused by their own alleged negligence? This is but one of the multitude of examples of the RSPCA letting down farmed animals in a terrible way.
13 years on and the Brinkworth's still own over 100 agricultural properties across South Australia and Victoria, mainly farming sheep and cattle.
References:
https://www.news.com.au/national/farmers-charged-with-animal-cruelty/news-story/f3cfd37b8ec83367b89426b60aa31dcb
https://www.animalsaustralia.org/media/in_the_news.php?article=833
https://www.adelaidenow.com.au/news/millionaire-pastoralist-tom-brinkworth-wants-court-costs-from-rspca/news-story/f1146fb8a5585ab2c847644864bce7e2
Facilities related to this article